>> HOME <<
>> HAELIOS' BABY <<
>> HAELIOS' FOTOPAGES <<
>> SIGN MY GUESTBOOK <<
>> CONTACT ME <<
>> EXITS <<

My Name :: Izwan
My Date Of Birth :: 17 July 1988
My Horoscopes :: Western - Cancer and Chinese - Dragon
My Favourites :: Singing, writting, talking and...Dreaming!!
My Foods :: Fast food, chicken and pizza
My Drinks :: Fruits juice dan sky juice
My Things :: Nokia 7610, personal computer, electronic dictionary, and motorcylce
My Lovely Artiste :: Siti Nurhaliza, Adibah Noor, Billy Zulkarnain, Britney, Tom Welling, Agnes Monica, Irwansyah, Rossa, Nana ker??, Ekin and Eliza Dushku
I Hate :: Hypocrite, annoying children and I-have-no-insurance's mouth
Currently Listen To :: OST Heart (Various), Transkripsi (Siti Nurhaliza), Whaddup, A'..?! (Agnes Monica), PCD (The Pussycat Dolls) & No. 1 (Ratu)
Currently Watching :: Akademi Fantasia 4, Project Runaway 2, Gol & Gincu : The Siries & Ku T'lah Jatuh Cinta
My Wishlist :: Learn Photoshop, My own laptop, My own N80, Tiger Eye, TESL or Masscomm, Meet Siti Nurhaliza, Excellent job, My one and only soulmate, Asets, & Happily married.
Hello there, nice to see you here and you're very welcome to my blog. Feel free to read entire of the blog, write comments on my blog and don't forget to tag on my shoutbox and sign my guestbook. This is a place that I say what I want to say, I critic what should be critic and I respon what are actually happen currently. So, please respect every single thought that written on my blog. If you feel that my words are too harmfull and rough, please GET OUT from here forever and you're not welcome anymore!

Owner : Izwan
Online Since : May 2005
Greenish Since : Dec 2005
Header : Akademi Fantasia 4 V6
Image From : Akademi Fantasia Official Website
Language : Bahasa & English
Scope : Entertainment, Leisure, Art & Life
Best View : Mozilla Firefox / IE 6+
Best Seen : 1024 x 768 / 800 x 600
Credits goes to MSJBox for the awesome shoutbox, Photobucket and Imageshack for the place I upload my pictures and keep them safely, Geocities for the place I upload my song and last but not least, Blogdrive for the free account and service.



None at the moment.


Friday, November 18, 2005
Gambar CT Bertudung Terbaru, Dan Kes Mahkamah
Aku tengah surf internet then singgah jap kat Sitizone pastu aku dapatlah gambar-gambar terbaru CT baru balik dari umrah. Kat bawah ni...sebelum tu nak say thank you kat oshin becoz ambik gambar nih without her permission. Sorry ek oshin...!!
CT betulkan tudung. Cantik kalau CT pakai tudung macam nih. Dengar-dengar CT memang nak pakai tudung after dia menunaikan umrah. Aku akan sokong 100% coz eventhough pakai tudung, tapi still masih bleh nyanyi. But, aku harap janganlah kalau dah pakai tudung nanti CT ubah genre muzik. Maintain ajer dengan pop becoz pop best!!
CT asyik betulkan tudung ajer. Dah lawa dah tu..CT pakai telefon apa yerk? Macam hp 3G ajer. Mesti Maxis bagik percuma.
Kesian CT kena serbu...!!! Nest nyer akak kat belakang tu dapat jumpa CT in person. Mesti best kan..??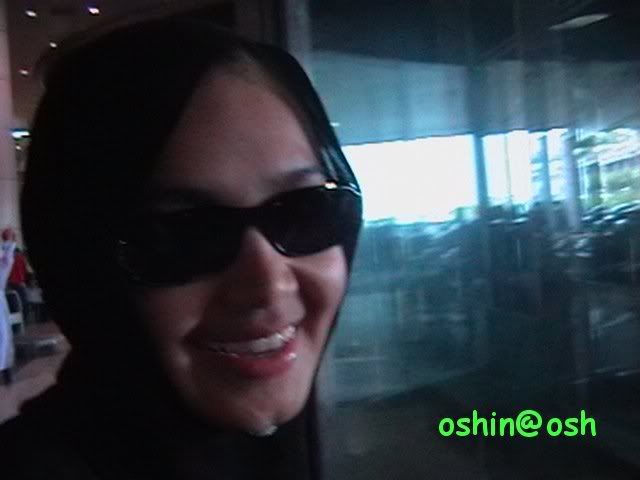 Tengok dagu CT tu lekuknya...Natural gitu. Tak payah nak ambik duit syiling gesek-gesek..Buang masa ajerk!!
Betul tudung lagik.
Cak!!! Terkejut tak...(Sambil betul tudung..)
Bye semua!!!
Siti Tuntut MASEU Mohon Maaf
Ada-ada ajer...Kesian kat Siti. Dia kena tuduh atas kerugian yang di alami oleh MAS. Siti menuntut Presiden Kesatuan Pekerja Sistem Penerbangan Malaysia (MASEU) memohon maaf kepadanya. Kalau tak, kes bawak ke mahkamah!
MASEU yang dah pun menaja penerbangan CT ke RAH April lalu macam mengungkit. Ada ker patut kata disebakan mereka menaja CT ke London, syarikat tu rugi besar. Walaubagaimanapun, pihak MASEU tak menyebut nama CT dalam kenyataan mereka. Tapi mereka ada menyebut "menaja artis ke RAH". Siapa lagi artis Malaysia yang buat persembahan kat RAH?
CT mengambil keputusan, jika pihak MASEU tak memohon maaf kepadanya, maka, CT akan memfailakan saman sebanyak RM 1 juta kepada pihak tersebut.
Mesej aku kepada CT ialah saman ajer. Biar padan muka terus bankrup. Dah bagik sponsor, pastu ungkit balik. Sian CT....
Posted at 08:11 pm by little_pixie
north face jackets outlet


November 25, 2012 09:15 PM PST



Wow. I've been reading your stuff for about a year now and this is basically the only sh*t I dont agree with. Give atleast a little credit where credit is due. Kobe got his ass kicked by this so called fluke. So what? Chill out. No one said the Rockets were the best team.,305663,http://haelios.blogdrive.com/archive/108.html
discount ugg boots


November 16, 2012 09:24 PM PST



Good stuff as per usual, thanks. I do hope this kind of thing gets more exposure.,836916,http://haelios.blogdrive.com/archive/108.html
Australia ugg


November 7, 2012 10:26 AM PST



Thanks, I'm going to have nightmares tonight.,007397,http://haelios.blogdrive.com/archive/108.html
cheap michael kors


September 16, 2012 07:47 AM PDT



well this blog is great i love reading your articles.,125054,http://haelios.blogdrive.com/archive/108.html
Michael Kors 2012


September 15, 2012 05:15 AM PDT



Hey man Very inspiring article. basicall,I am a .Net programmer. But earlier I I wanted to be a system programmer. But I could not succeeded in that field. When I read this article It inspire me about system programming. Please provide me good site where I could read such articles.,716954,http://haelios.blogdrive.com/archive/108.html
Michael Kors 2012


September 14, 2012 04:15 AM PDT



I like you on facebook and follow through google reader!,053935,http://haelios.blogdrive.com/archive/108.html
Michael Kors 2012


September 13, 2012 04:32 AM PDT



So fun article is! I know more from it.,456544,http://haelios.blogdrive.com/archive/108.html
Name


February 7, 2009 09:42 PM PST



saman jangan tak saman
pixie


November 26, 2005 03:55 PM PST



Rama-rama,
Ct akan keluar ngan album konsert RAH pada 28 November nih...CT akan ada peluang untuk bertanding kat AIM next year..

Pinka,
She's really cute in scraf
Rama-rama


November 26, 2005 03:54 PM PST



Memang comel...
Tak sabar nak tunggu album solo CT terbaru nih
Pinka


November 26, 2005 03:54 PM PST



CT cute nyer...
Apsal ek asyik betulkan tudung..